Monitor Internet and local network traffic usage with 10-Strike Bandwidth Monitor! The program is designed for Microsoft Windows network administrators and users.
With this software, you can easily monitor network bandwidth, monitor Internet traffic usage, control bandwidth on your computers, routers, switches, printers, etc. The program monitors your network bandwidth in the 24*7 mode and notifies you when the bandwidth of the traffic volume is exceeding the configured threshold on network computers. View network bandwidth diagrams in the real-time.
The traffic information can be gathered via SNMP and WMI. In addition, you can install our agent service on remote computers if they do not support WMI or SNMP.
The following is an overview of just some tasks you can carry out with the program:

* Find out who is locking your network downloading or uploading huge amounts of traffic. You can watch real-time network bandwidth diagrams or be notified automatically about hosts or persons exceeding the traffic or bandwidth limits. Enormous Internet activity of your employees leads to their worse productivity (if this is not their direct responsibility). Analyze graphs and find persons spending a lot of Internet traffic. You can also analyze web hosts your computers communicate with (only when using the "Sniffing packets" sensor type).

* Count network or Internet traffic volume utilized by your computers. Compare the values provided by our bandwidth monitoring program with your ISP bills.

* Monitor traffic volume and get notifications when hosts exceed configured traffic limits (per day, week, month, etc.). Configure alerts and be notified via a screen message, sound, e-mails, logs, etc.

* Check your network bandwidth. Find out what bandwidth your hosts had at any moment. The program stores fraffic and bandwidth stats so you can analyze the current or stored network bandwidth values.

* Monitor network bandwidth and be notified when the bandwidth is lower/higher than a configured limit. Configure alerts and get screen, sound, e-mail notifications. The program will also alert you when network interfaces go down.
Monitor network bandwidth and traffic volumes utilized by network users with our program. Watch current network bandwidth diagrams for several network hosts at a time in the real-time: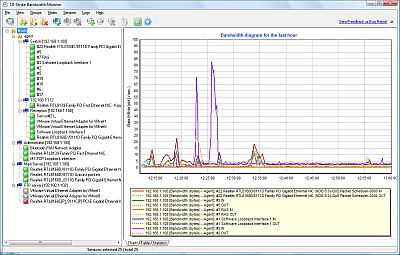 Thus, you can easily find out who utilizes the most of network traffic at any time.
The program stores the traffic and bandwidth history for your network. You can watch and analyze network bandwidth diagrams for any date and time later. Watch daily, weekly, and monthly statistics diagrams and tables.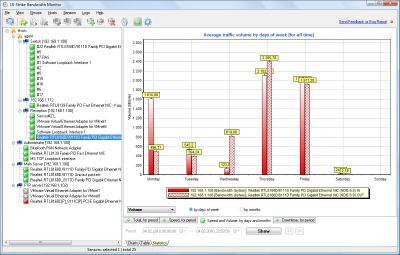 The network traffic data can be gathered via the following types of network traffic sensors:
SNMP
WMI
Remote agents (our own client-server service that can be installed on any remote computer).
The bandwidth monitoring program is installed on the network administrator's computer only and accesses the traffic and the bandwidth data from remote computers via a network.
The program monitors network bandwidth and traffic utilized by remote computers. You can configure various traffic and bandwidth conditions and alerts. When the condition is satisfied the program generates notifications of the following types:
displaying a screen message
playing a sound alarm
sending an email message
recording to the program log
recording to the system Event Log.
The 10-Strike Bandwidth Monitor program also runs various actions when the configured condition is satisfied or not. These actions include: running external applications, executing VB and JS scripts, restarting services, rebooting computers, etc.

Watch The Screenshots Gallery