Search files on CD/DVD data disks
To jump to the search mode, press the F3 key on the keyboard or select the Search item on the Search menu.





Please specify file masks and/or the description text for searching, choose disk group, and click "Search" for searching needed files.
You can use the advanced searching mode by clicking the "Advanced..." button.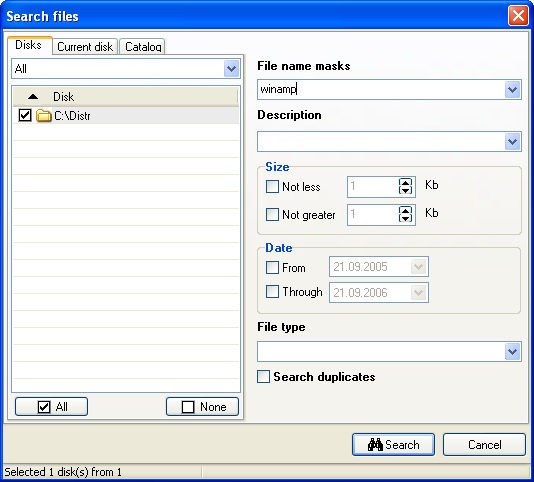 Searching files
To search files:
1. Specify the search range (Disks, Current disk, Catalog)
Click on the desired tab and select the disks or folders to search in.
2. Specify the file search criteria (select the items and enter the additional information):
Filename masks (*.* by default; the characters '?' and '*' can be used). You can use several masks delimited by commas.
Size not less than, Kbytes.
Size not greater than, Kbytes.
Date from.
Date through.
File type.
Keyword to search for in descriptions.
3.
Click on the
[Search]
button.
When the operation is completed, the found files are displayed in the main window, on the
Search results
tab.
Viewing search results
Two modes are available for viewing search results:
View as tree (displays disks and folders that contain at least one found file):

View as list:
To toggle the view mode: use the button

or select the View as tree item on the Search menu.