Track Hardware and Software on Network Computers with 10-Strike Network Inventory Explorer! The software is designed for Microsoft Windows network administrators, it allows you to create and maintain the inventory database of network computers. The program easily finds network computers and adds them to the inventory database. You can view the hardware and software configuration of network computers remotely, track and watch the configuration changes, generate various reports.
The most important feature of the program is not just scanning the hardware and software inventory installed on network computers and generating reports... When you scan the computers again, the program compares the results and finds changes!
Track changes in hardware and software! Find problems and vulnerabilities, be aware on what is happening on your computers.

New version 7.3 has new UI design and icons, Linux and Android scanning supported using SSH.
You can monitor almost every process on the company's computers over the network:
Be aware on new software installed by users.
Monitor hardware changes.
Scan Windows and Linux machines including even Android devices with SSH installed.
Find potentially dangerous problems: low free disk space, overheated hard drives, outdated antivirus databases, etc.
Be notified on new processes added to the startup folder and new services installed on user workstations. You can find malicious software appeared on users' machines!
Audit software licenses and serial numbers.
Find computers with outdated antivirus databases or with no antivirus program installed.
Check whether all necessary system updates and hotfixes were installed.
Find computers with insufficient memory size, low disk space, or small screen size and plan an upgrade.
The following is an overview of just some tasks you can carry out with the program:

1. Inventory Hardware - Create the inventory database with the hardware installed on remote computers: CPU, memory size, hard drives, partitions, CD/DVD drives, videocards, USB flash drives, etc. Create reports on the hardware configurations. Export data to external database.
Easily Plan and Prepare Hardware Upgrades! Create reports on computers with insufficient RAM size or disk space (e.g., all computers with less than 1 GB of RAM). Similarly, you can create reports on computers with particular CPU models, video cards, or printers.
2. Inventory Software - Create reports on the availability of particular programs and number of copies installed on network computers. Create reports on versions of operating systems, installed updates and bug-fixes, codecs, startup programs, etc.

3. Track Hardware Changes on Network Computers - View and analyze configuration changes, save reports. Discover when users connect a new USB flash or HDD drives to their computers, or when they change the hardware in their computers. Be notified on the hardware changes via a screen message, sound, or e-mail.

4. Track Software Changes on Network Computers - Discover what new software was installed by users on network computers. Audit startup programs on network computers. Be notified on the software changes via a screen message, sound, or e-mail.

5. Audit Software Licenses and License Keys - Monitor whether the number of installed copies of software products is not larger than the number of licenses purchased. Audit license keys and serial numbers. You can enter valid serial numbers and license keys for your products and find illegal or pirate keys used on your computers.
6. Generate Hardware and Software Reports - 10-Strike Network Inventory Explorer contains a powerful report generator which allows you to create professional-looking hardware and software reports in various file formats for a single computer or for a group of computers. You can configure inventory items to be included in the reports. See examples of hardware and software reports generated by the program. The program contains more than 60 ready-to-use reports on hardware and software including antivirus reports. You can create your own report templates.

7. Export Inventory Data to External Database - Analyze the inventory data deeper. The program exports the inventory data to the following databases: MS SQL, MS Access, Postgre, Linter, etc. Intergate our program with your MIS system or help desk.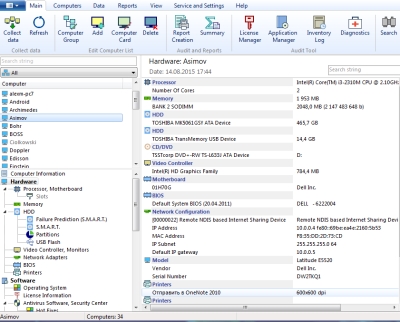 The program is installed on administrator's computer only and uses the WMI technology for scanning hardware and software on remote computers. It does not require installing any additional components on network computers. On the other hand, if you cannot use WMI for some reason, the program supports two alternative methods for collecting the inventory data from computers.
See Examples of Hardware and Software Reports and Diagrams
Operating systems supported: Windows XP/2003/Vista/2008/7/8.1/2012
Awards:


The program was awarded by PC Magazine/RE in 2013 and 2014!