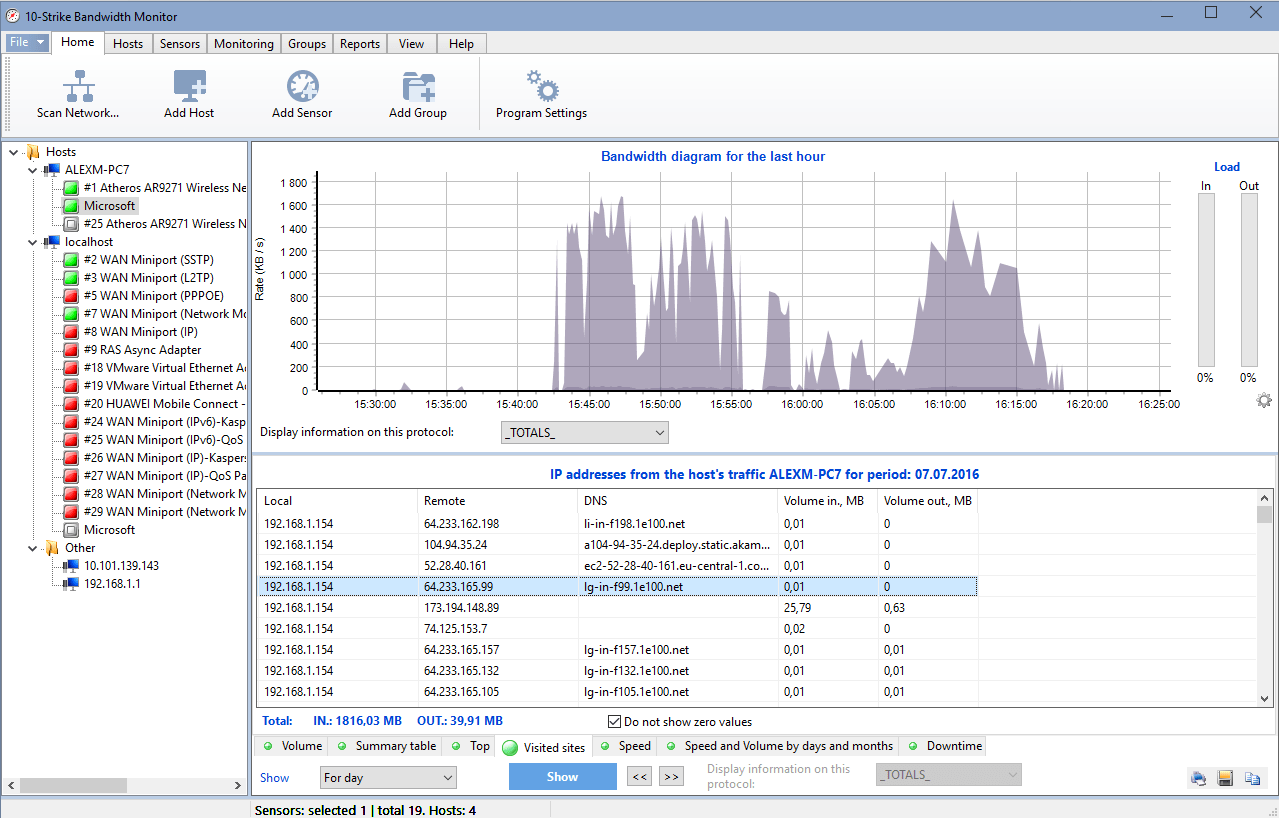 Easy and fast setup!
Real-time bandwidth charts
Control all devices from one PC
Alerts and notifications
Supports WMI, SNMPv1/2c/3, 64-bit
Find out who is downloading
Check your ISP's stats

Monitor the Internet and local network traffic usage with 10-Strike Bandwidth Monitor. The program is designed for Microsoft Windows network administrators, IT specialists, ISP, and small businesses.
With this award winning software, you can easily monitor the network bandwidth and the LAN/Internet traffic usage, discover the packet transfer speed on your computers, routers, switches, printers, etc.

The program monitors your network bandwidth in the 24/7 mode. You can watch the network bandwidth charts in the real-time detecting the most active users or hosts, build the table reports on the downloaded traffic volume, and print reports (see examples on the screenshots page).

Configure email or SMS alerts and the program will notify you when the bandwidth or the traffic volume (per interval - day, month, etc.) is exceeding or falling under the configured threshold on network hosts. This is useful when you have a monthly traffic limit or when you monitor your network hardware to avoid being overloaded.

The traffic information can be gathered via SNMP, WMI, and agents. With WMI, you can start getting the traffic information from Windows PCs immediately without installing anything on remote computers. All you need is the domain administrator password. SNMP can be used for managed switches, routers, and *nix systems.

You can also install our agent service on remote PCs if they do not support SNMP or WMI cannot be used for some reason. The agent installation file is provided with the program and can be installed remotely as the .msi package using Group Policy.
Task Overview

* Find out who is locking your network downloading or uploading huge amounts of traffic. You can watch the real-time network bandwidth charts. Or you can be notified automatically about hosts or persons exceeding the traffic or bandwidth limits. An enormous Internet activity of your employees leads to their worse productivity (if this is not their duty). Analyze graphs and find persons spending a lot of the Internet traffic. You can also analyze addresses of web hosts your computers communicate with (only when using the "Sniffing packets" sensor type with our Agent).

* Count the network or Internet traffic volume utilized by your computers. Compare values provided by our bandwidth monitoring program with your ISP bills. Analyze and plan the network load on your switches and routers to avoid overload and extend the network capacity in time.

* Monitor the network bandwidth and be notified when the bandwidth is lower/higher than a configured limit. Configure alerts and get screen, sound, e-mail, and SMS notifications. The program will also alert you when network interfaces go down.

* Check your network bandwidth. Find out what bandwidth was on your hosts at any moment. The program stores the traffic and bandwidth stats so you can check the history bandwidth charts and discover what happened.