Advantages

1. Monitor the network bandwidth and traffic volumes utilized by network users with our program. You can watch current network bandwidth charts for network hosts in the real-time or analyze the historical data which is saved to the internal database automatically.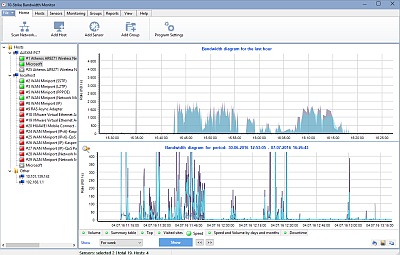 Thus, you can easily find out what user or device utilized the most of network traffic in the reporting period.

2. The program stores the traffic and bandwidth history for your network. You can watch and analyze the network bandwidth charts for any date and time later. You can watch the daily, weekly, and monthly charts.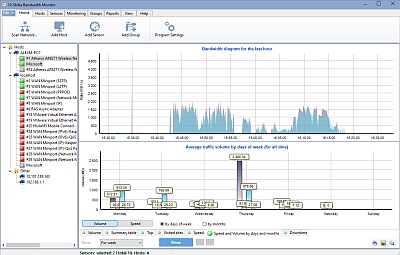 3. The bandwidth monitoring program is installed on the network administrator's computer only. It accesses the traffic and the bandwidth data from remote computers and hosts over the network.
The network traffic data can be gathered via various types of network traffic sensors:
SNMP - for Windows, Linux, and *nix computers/servers + managed network equipment
WMI - for Windows PCs (in this case you will only need the admin password for remote PCs)
Remote agents (our client-server service that can be installed on any remote PC; it contains a sniffer for gathering network addresses the host is exchanging with).
So, you can configure the program in multiple types of environment and monitor the traffic data on varous devices.

4. The program monitors the network traffic utilized by remote computers. You can configure various traffic and bandwidth conditions for raising alerts and making notifications. When a condition is satisfied the program generates notifications of the following types:
displaying a screen message
playing a sound alarm
sending an email message
recording to the program's internal log
recording to the system Event Log.
5. In addition to these notifications, the program can make various actions when an alert raises. These alert actions include:
running external applications
executing VB and JS scripts
restarting/starting/stopping services
rebooting computers, etc.