How to Monitor Hard Disks on Remote Computers?
To avoid unexpected data loss on hard disks installed in computers, it is recommended to monitor the disks using S.M.A.R.T. (Self - monitoring, analysis, and reporting technology). The SMART parameters help to predict the disk failure before the stored data is lost. Various sensors and the disk's electronics fix and count errors occurred during the disk operation helping to analyze the error dynamic trend. In addition to the error rate monitoring, the disk temperature is controlled as well. The disk overheating can lead to faster disk's characteristics and electronics degradation leading to a failure in future. If a disk is overheating this can also mean that the whole PC is operating in poor conditions and other components can suffer. Its cooling system may be broken or filled by dust and needs to be cleaned in time before the user data is lost and hardware is damaged.
The WMI technology (Windows Management instrumentation) allows reading this data remotely from Windows computers. If you have admin rights on a remote PC, no additional components are to be installed on it and the SMART monitoring can be performed over the network using our program.
Watching S.M.A.R.T. Parameters for Remote Computers' Hard Disks
To watch the S.M.A.R.T. information, select a computer in the list and click "HDD->S.M.A.R.T." in the configuration tree.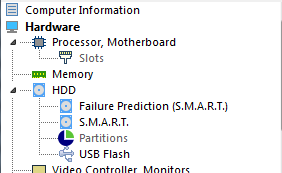 The program will display the collected values of the SMART parameters on that computer: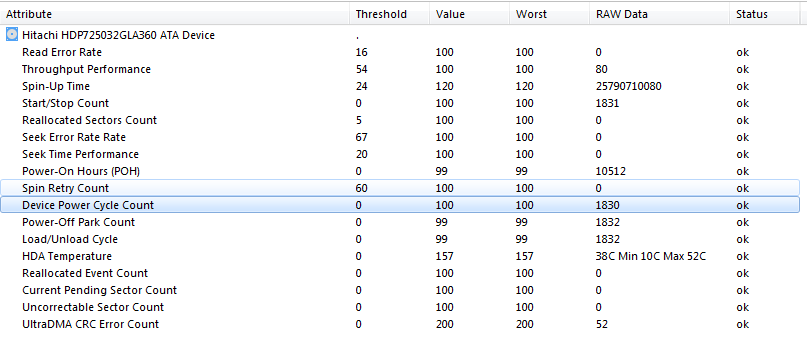 Warning! In order to read the S.M.A.R.T. parameters successfully, please do not forget to select the "S.M.A.R.T." data group when configuring the computer data collection: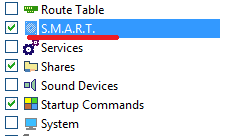 If the S.M.A.R.T. data is not displayed in the program, this can mean two things: 1) the S.M.A.R.T. monitoring is disabled the computer BIOS, 2) S.M.A.R.T. is not supported by the disk drive, 3) the data was not polled because the "S.M.A.R.T." data group was not selected to be collected from computers (see the below screenshot).
Automatic Background Remote HDD Health Diagnostics and Monitoring
The program does not only display the SMART information collected from remote hard drives. It is constantly monitoring the disk health and temperature and notifying you about detected problems. You can configure the temperature threshold in the program settings and receive email notifications if something is wrong with disks on network computers. You can also create a report on overheating or failed HDD.
In addition to hardware problems, the program detects the "software" issues too. For example, it can notify you about low disk space, missing antivirus program, or outdated antivirus databases on your workstations and servers. You can see all detected issues on the "Found problems" pane and configure notification methods for the most important problems.