Network Mapper and Monitor - LANState
Overview: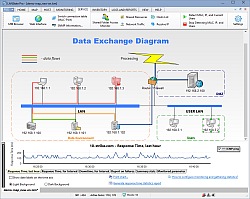 10-Strike LANState is a network mapping and monitoring software for networks. You can use the program for corporate Microsoft Windows network management and administration.
LANState generates a network map, which speeds up accessing to remote hosts' properties and resources, and managing those. Scan your network, find hosts, place them on a network diagram, and monitor their state visually! The program exports network diagrams to graphic images, Microsoft Visio, and XML files.
Learn more about Network Mapping and Network Topology Discovery
LANState contains the following modules:
LANState has a rich host monitoring functionality with multiple types of host checks, which allows you to see the state of your network at any time. The program displays a network map, monitoring device's state (active/inactive) in real-time. You just click a tray icon at any time, and see which servers and computers are switched on, and which do not respond. Web UI is also supported (LANState Pro).
Employing LANState makes it essentially easier to administer and monitor processes in networks of any ranges or sizes.
Why LANState? The Program's Benefits:

LANState builds a network map automatically by scanning Windows network neighborhood or IP address range.
Save your network map for future use, print it, export it to a bitmap file.
Be notified by background device monitoring via a screen message, sound, or e-mail when your servers go down or start working.
You do not have to pay for quantity of controlled devices. I.e., if you monitor 10 or 500 devices, the price will be the same.
You do not have to pay additional money for technical support.
And the most important. The package does not require installing any components on remote servers and workstations.
Link external applications like file managers or remote administration software to the program and run them in a couple of clicks with needed parameters.


Import custom backgrounds for more evident network map's look.
Access and manage remote devices in a couple of clicks, using LANState's visual network map. You are able to shut down, restart, and turn on servers and workstations, access remote services and resources, view remote event logs, access remote registry, list processes, devices, services, and so on.


Export network maps to Microsoft Visio (in LANState Pro only).
Send messages to domain users with help of integrated advanced messenger.
Monitor connections to your shared resources and be notified when someone connects to your shared resources (logging, sound/screen notifications, and "black list" are supported).


Access your network map remotely via HTTP protocol using built-in web server, and export network map to xml file format (LANState Pro).
The program contains many useful tools for administrators, such as network scanner, port scanner, ping, trace route, name lookup, etc.
The program is easy and simple to use. A detailed help system is available.
Operating systems supported: Windows 98/ME/NT/2000/XP/2003/Vista/2008/7/8/2012
You can download free fully-functional 30-day trial version and try the program on your network.
View the Screenshots Gallery:
All LANState Screeshots (main page):
Network Mapping and Network Topology Discovery
Scanning Network and Searching Computers
Getting Information on Remote Computers
Shared Resource Connection Monitoring
Web User Interface - Remote Network Monitoring Possibilities
New Version 7.33 is Released!

1) Added the LLDP and SNMPv2C protocol support.

2) Improved the web-UI's performance (in the Pro version only).

3) Improved the multiple host editing operations and the diagram displaying functions.

4) Added support for Visio 2013.

5) Added support for 64-bit counters in the SNMP monitoring.
Learn more about new features...
Pro and Standard Editions:

The LANState software has two editions: Pro and Standard. Please read the versions feature comparison if you do not know which version to choose.
1. LANState Pro ($249.95) is the most advanced version of the program, which contains a built-in web server which provides a web UI for remote users. With its help you are able to install the software on a single computer, so users and administrators will be able to see which hosts are on and off using their web browsers only. You may consider purchasing one copy of LANState Pro instead of several copies of LANState. LANState Pro allows exporting network diagrams to Microsoft Visio, supports larger map sizes, retrieves SNMP data, builds switch connection tables and exports it to CSV files.
2. LANState Standard or just LANState ($149.95) is a network mapping, monitoring, and management solution, which has built-in Windows remote administration features.
Free trial 30-day versions of all the editions are available for downloading
Our Clients:

Success Stories and Reviews: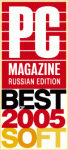 10-Strike LANState in PC Magazine/RE in annual software review "Best of Soft 2005": "It is not so mighty and "heavy" as HP OpenView, but it is quite functional and easy to use. The software provides automatic forming of a network map, and allows organizing server and workstation monitoring, provides basic remote management facilities..."
10-Strike LANState review at 3d2f.com: "The most intelligent tools are the ones that provide methods for network visualization and mapping. Such tools make the network management a very easy and vivid job. Perhaps, one of the newest and comfortable network mapping tools is 10-Strike LANState..."
Registered users' testimonials:
1. "I also wanted to tell you how much I like the ability of importing previous scans into a current scan. This program has been the most valuable network tool I have used yet."
2. "I have used LANState for a month now, and it has allowed me to fix network issues before the users realize it. It keeps my VPN connections up and monitored at all times, and it allows me to monitor and access printer server and workstation resources all from one place.
I have 109 network entities listed so far, and will be adding another 35 later this month. Your software has saved me hours of work being able to work from my desk instead of going to the different buildings and offices to access the resources. The ability to keep my VPN connections alive 24/7 is a blessing in itself. No more rebooting the router to get it to come back up.
I highly recommended the software."
3. "Thank you wery much! Your LANState is the best!
Now I know exactly what happens in my network at every moment. It is very simple to manage all computers by using your program.
LANState combines friendly interface and many necessary features for administration and management."
Detailed Features:
Network mapping: modeling a local area network in a visual mode and then saving the result as a map, image, XML scheme. You can print the network map, or export the network map to Visio.
Network diagram: Draw a network diagram and export it to Visio.
Monitor servers and other hosts. The following monitoring checks are supported: ICMP monitoring,TCP port monitoring, DNS monitoring, ARP and MAC address monitoring, SNMP monitoring, FTP monitoring, HTTP monitoring, NetBios monitoring, service monitoring, process monitoring, folder monitoring, file monitoring, file size monitoring, disk space monitoring.
Obtaining information on remote computers: IP address, current user, accounts and groups, domain, server, operation system used, current date and time, MAC address, shared resources, connected users, registry, services and devices, processes running, event log, installed software, SNMP information.
Connection monitoring (monitoring usage of your shared resources by other users of the network) with logging, sound and screen notification, and blacklists.
Network traffic monitoring (incoming/outgoing traffic and transfer rates).
Searching hosts by ICMP ping or scanning TCP ports.
Controlling access permissions for your shared resources.
Pinging any computer on the network.
Shutting down and restarting any computer on the network (when required permissions are granted on the remote computer).
Notifying of events by playing a sound, writing to log, running program, sending e-mail, etc.
Performing actions on network devices via the configurable context menu.
Easy install and uninstall.
Windows 95/98/ME/NT/2000/XP/2003/Vista/2008/7 supported.
You can download free fully-functional 30-day trial version and try the program on your network.
Feedback:
If you like this program or if you want us to add some features, we would be glad if you send us a letter. Any bug-reports will be appreciated too. You may send us your feedback here.