Getting started
Basic Interface Description
The main window contains three tabs: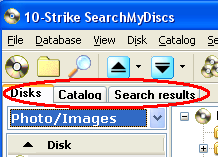 Disks - displays disks (folders) and their file structure. The tab has three panes: Disk List (for selecting disk/folder), Browser (for browsing disk contents), Descriptions (for showing file, folder, and disk descriptions).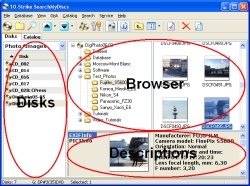 Catalog - displays the tree-like catalog of files and folders.


Search results - the tab is available only upon a successful completion of a search. This tab displays the search results. You can toggle the view mode between a list and a tree.

See Interface for more details.




The First Stage of Working With The Program


1. Start the group editor (select the Group editor item on the Service menu; use the Ctrl-G key combination or the

) and create the necessary groups. If you do not create groups, the default groups will be listed: Images/Photos, Video, Texts, Music, Multimedia, and Programs. You can modify or delete the default groups or add your own groups; e.g. Games.
See Group editor for details.

2. Scan one or more (preferable) disks. This allows you to see most of the program's features. Insert a CD or DVD into your drive. The program will inquire whether you would like to scan that disk. Select Yes at the prompt or select the Scan disk item on the Disk menu. Or click

.
When the scanning is completed, the disk properties window will appear. Select the groups you would like the disk to belong to, edit the disk's title and other properties, add description and memo if necessary.
See Scanning disk and Disk properties for details.

3. Instead of scanning a disk, you can scan a folder. To scan a folder: select the Scan folder item on the Disk menu or click

.
See Scanning folder for details.




The Second Stage of Working With The Program


After having your disks scanned you can:
1. View the disks' file structure.
2. Find files on the disks.
3. Generate report on the files.
4. Place files and folders to the tree-like file catalog.

Now you can quickly find information on any disk and its contents even when your collection of disks consists of 300-500 or more disks.