Shared resources

This window displays your computer's folders, which are currently allowed to be accessed by remote users (Fig. 1).



You can:
Change shares by selecting the context-menu item Edit (double-click) and changing the appropriate field value on the form Access that appears (Fig. 2).
Close shares by clicking the button Delete.
Create new shares by clicking the Add button and then selecting the folders on the folder tree.


Fig. 1: The Shared resources window.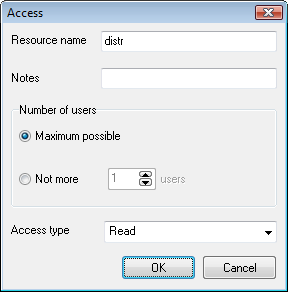 Fig. 2: The Access window.

LANState has some basic share access monitoring functions. For more serious usage, please use our special product made for the share access monitoring: 10-Strike Connection Monitor.