Junk Mail Remover deletes spam, junk, virus, trojan, and worm e-mails right in your mailbox without downloading them.
If your e-mail address is bombed by spammers or viruses, or you get many messages with big attachments every day, this program is for you!
Remove all this junk e-mail messages fast and easily. If your connection is slow (dial-up, GPRS, EDGE, etc.) or you have to pay for internet traffic, Junk Mail Remover will save your time and money (and nerves therefore).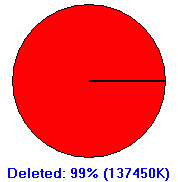 Junk Mail Remover connects to your mail server and downloads all headers or headers of large messages only. You can analyze message attributes (sender, recipient, subject, size) and decide which e-mails are needless. Then mark them for deletion and the program will remove marked messages from mail server. Filters and SpamAssasin support can help marking messages automatically. Black filters allow you marking messages for deletion automatically. White filters allow you preventing from important messages deletion.
After this you are able to save your traffic and time, downloading remaining messages clear from viruses, worms, trojans, spam, huge attachments, and other junk.
*At the picture above you can see how the program worked out in the summer of 2003 during the Klez epidemic. We got 140 Mb of virus e-mail messages during one night. Just imagine how you wouild download this junk using dial-up or GPRS/EDGE connection...

Download Junk Mail Remover (Free 30-Day Trial Version)
Current product version: 2.1
File size: 1 MB
Language: English
Operating systems supported: Windows XP/Vista/7/8.1/10/11, Server 2003/2008/2012/2016/2019/2022
Trial Period: 30 days
Warning! Junk Mail Remover deletes e-mail messages via the POP3 protocol only. If you do not know what the POP3 protocol is for, this program will not help you. :)

Click Here to Order Junk Mail Remover ($19.95 $14.95)
Program's Benefits:
Ability to remove junk, spam, and virus messages right on your POP3 server with no risk of infection.
Easy to use!
White and black lists for automatic deletion supported.
SpamAssasin tags supported.
Keep alive connection supported.
Low time and traffic consumption.
Multiple e-mail accounts supported.
How To...
How to delete spam and junk e-mail and save GPRS/EDGE traffic
How to delete virus e-mail messages without downloading them
How to delete e-mail messages with big attachments without downloading them
How to automatically remove spam e-mail when SpamAssasin is installed on your mail-server
If you like this program or if you want us to add some features, we would be glad if you send an email to us. Bug reports will be appreciated too. You can send your feedback to us here.