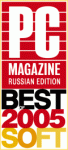 Our network management and monitoring program LANState has been mentioned by PC Magazine/Russian Edition in their annual software review "Best of Soft 2005". You can read the full review in the october issue of PC Magazine/RE.
A quote from the article:
10-Strike LANState is the software for corporate network administration and management. It is not so mighty and "heavy" as HP OpenView, but it is quite functional and easy to use. The software provides automatic forming of a network map, and allows organizing server and workstation monitoring, provides basic remote management facilities. Inventory functionality is implemented also, and it does not require installing any components on the remote systems. Moreover, the package is equipped by advanced security subsystem. For example, administrator can block connections to shared resources using "black list", etc...