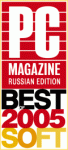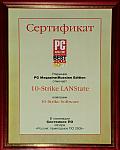 10-Strike LANState in PC Magazine/Russian Edition #10'2005 in annual software review "Best of Soft 2005": 10-Strike LANState is the software for corporate network administration and management. It is not so mighty and "heavy" as HP OpenView, but it is quite functional and easy to use. The software provides automatic forming of a network map, and allows organizing server and workstation monitoring, provides basic remote management facilities...

10-Strike LANState review in TechNet Magazine, April'2007: The handy LANState Pro network mapper and monitor from 10-Strike Software can help with quick visualization and LAN management capabilities for Windows ® -based networks...

10-Strike LANState review at 3d2f.com: The most intelligent (and therefore rare) tools for that are the ones that provide methods for network visualization and mapping. Such tools make the network management a very easy and vivid job. Perhaps, one of the newest and comfortable network mapping tools is 10-Strike LANState...
10-Strike LANState review at Qweas.com:

...The map creation wizard helps your to create network map fast and easily. The interface of the program is very convenient, and the main command icons are placed on the left. LANState's network mapping, monitoring and remotting function is very good, it's a practical utility.