What is SAM
SAM (Software Asset Management) is a business practice that involves managing and optimizing the purchase, deployment, maintenance, utilization, and disposal of software applications within an organization. It might require quite a lot of time to check the license policy complying, audit usage of existing licenses, and optimize expenses on purchasing software and updates. Our software auditing program can help spending less time on these processes and prepare handy reports of the software and license audit.
Pro Version of 10-Strike Network Inventory Explorer
Starting from the version 8.0, 10-Strike Network Inventory Explorer is released in two editions: the standard and the professional version (Pro). The Pro version of the program allows performing more detailed SAM processes and is oriented on using in large companies with a distributed structure.
The Pro version has got a built-in Software Library containing more than 100 thousand software titles split by categories, with defined license types and prices. The Software Library allows you to mark out paid products among of installed software, plan the unlicensed software uninstallation, maintain software assets, analyze categories, and create various reports on free and paid products.
Comparison between Standard and Pro Versions
| Function \ Program | 10-Strike Network Inventory Explorer | 10-Strike Network Inventory Explorer Pro |
| --- | --- | --- |
| Maximum number of monitored PCs | 25-... | 100-... |
| Software inventory and audit | + | + |
| Hardware inventory | + | + |
| Finding changes and problem detection | + | + |
| Email notifications | + | + |
| License key auditing | + | + |
| Software Library with 100+ thousand titles | - | + |
| Extended SAM functionality and reports | - | + |
| Ability to use a network SQL database connected via DSN for storage instead of the local default SQLite database | - | + |
| Download free 30-day trial | | |
| Order license | Check prices | | |
How can users of the Standard version migrate to Pro?
The Pro version does not accept license keys from the standard version. If you own a license for the standard version, you can switch to Pro paying only the price difference between the new Pro and your existing licenses. You can upgrade to Pro here >>
Functions Planned in Future Versions of NIE Pro
Multiple user access with access right differentiation.
Improving the database integration and synchronization.
Improving the Active Directory integration and synchronization.
Central administration with ability of running scripts on computers and mass application deployment or uninstallation.
Advanced statistics and analytics center.
Further improving of the program's performance when operating big amounts of data.
Pro Version's Screenshots
Information on license type, software category, and prices.

New reports.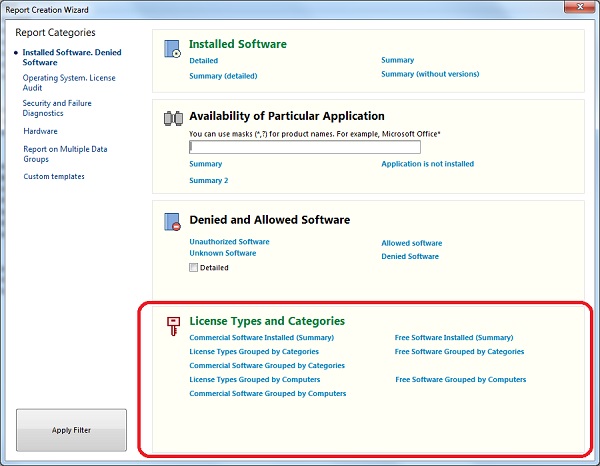 Reports on license type, software category, and prices.

Additional information in the Application Manager.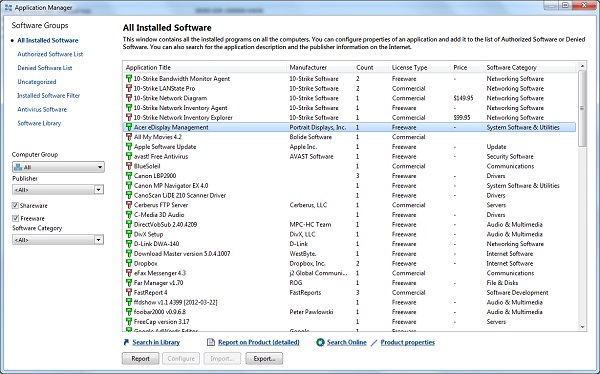 Software Library: viewing data, adding titles, editing.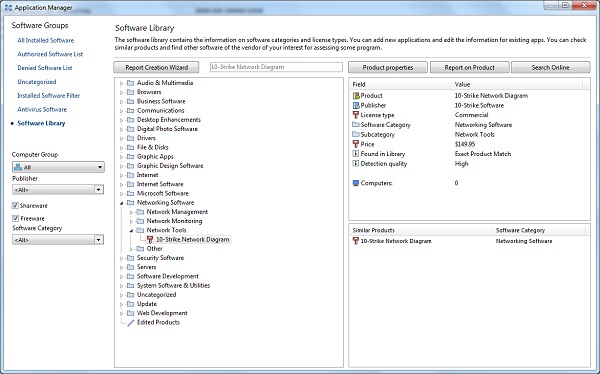 The program helps you to maintain the PC inventory. Gather the data over the network. Create reports on hardware and software. Monitor changes and PC health. Find problems, HDD overheating, etc. The program notifies you on the detected problems and important changes via email. The program is easy to setup and configure.
Take control over your network computers!
Download the program and try it for 30 days FREE.
When buying a license, you will get free program updates and technical support within one year after the purchase.