Remote System Information

System Information window displays miscellaneous data on remote computer/host:

You can save full or partial Information report with the above data to HTML, CSV, or XML file. Click the toolbar icon, or select "Information report" in the object's context menu.

If a current user does not have administrator rights on the remote computer, the user will not be able to view/edit remote registry, view remote event log, retrieve list of installed programs, etc. If you know the remote administartor's username and password, you can connect to the remote computer using this account. To do this, click the Connect button (see Fig. 1) or select the "Service | Connect with login and password..." item in the menu.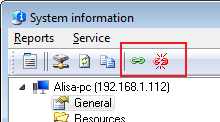 Fig. 1: The Connect and Disconnect buttons on the System Information window.
In the window arised, fill in the username and password and click OK. If the connection is successful, the program will show a corresponding message. Otherwise, a error message will be shown. After getting all necessary information from the remote machine, click the Disconnect button (or select the "Service | Disconnect" item in the menu). You should disconnect for security reasons so other programs could not use that connection with administartor rights.