Distributed Network Device Monitoring
in 10-Strike Network Monitor Pro
10-Strike Network Monitor Pro is a
distributed network monitoring software for Windows. Monitor devices and services when remote networks or company offices are spread over the world and can be located behind firewalls, routers, NAT, etc. All the monitoring results will be stored in a centralized database.
PROGRAM FEATURES

The monitoring system includes a single database with settings and monitoring results, as well as many monitoring centers (servers) in remote networks. This allows you to implement a decentralized monitoring mode when monitored devices are located behind a Firewall or NAT, without the need for port forwarding.

Place device icons on the graphic map and watch results of checks. A graphical diagram of a network or enterprise allows you to immediately localize problems that arise. Thus, it is possible to organize a dashboard or a SCADA-like control panel.

Display graphs and widgets with monitored parameter values on the screen. When values approach critical levels, widgets change color from green to red, which simplifies the dashboard dispatch control.

In addition to the desktop management console, the system can be fully managed via a web interface. It completely duplicates the Windows application and can be configured using mobile devices.
ADVANTAGES

Distributed monitoring of devices in remote networks with a central database and graphic console.

Monitor managed switches and active network equipment, UPS, services, servers, processes, databases, surveillance IP cameras, DVR/NVR, CCTV systems, communication channels, and other stuff.

Display results on a graphic map. Create a SCADA-like dashboard with gauges and widgets.

Analyze historical data and trends on charts. Save and print reports.

CPU temperature, fan speed, voltage, disk space, and CPU usage monitoring.

Receive alerts about accidents and deviations of parameter values.

SNMP trap support (for various hardware sensors).

Monitor industrial and advanced devices using OPC-DA, Modbus, MQTT, Netflow, etc.

Easy setup and configuration. No need to forward ports through NAT to check hosts on a remote network!

We have been developing monitoring solutions for 18 years since 2003. So we are offering the powerful product with tons of useful features to you.

Check dozens of monitoring protocols and sensors supported (ICMP ping, SNMP, Traps, WMI, HTTP(S), SQL databases, SSH, TCP, ARP, Event Log, processes, services, JS scripts, disk space, S.M.A.R.T., CPU load, temperature and fan speed, printer toner/ink, switches, UPS, surveillance IP cameras, DVR/NVR, CCTV systems, network bandwidth, NetFlow, ...)
VIDEO REVIEW
We have created a short video (4 minutes) for explaining the program concept and its features.
SCREENSHOTS
OPERATING PRINCIPLE OF DISTRIBUTED NETWORK MONITORING
The operation of the program is based on periodic polling of the monitored hosts by sequentially performing the checks specified for each of them. Depending on the result of this procedure, the checks receive a status (passed or failed), and the results are recorded to the database.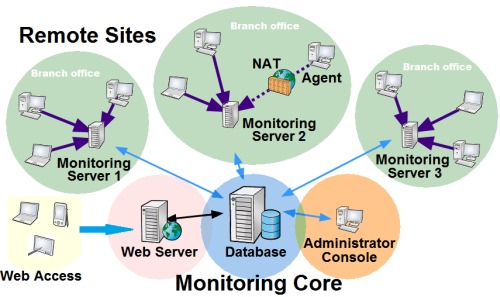 You create hosts and configure monitoring checks for them using the graphical console or the web interface. This information is stored in the program database.
The monitoring service reads this data and starts the cyclic execution of monitoring checks, updating their status in the database, forming the archive of statistics based on the check execution time and parameter values ??(voltage, memory, processor load, and so on).
The graphical console receives the status of completed checks and displays it in the form of a colored list, builds graphs, draws indicators, and generates reports based on the accumulated statistics.
In case of a failure, the service initiates the execution of alerting actions. It can write to log files (in the database and duplicate writing to a local file), send SMS, E-mail, restart / stop services or computers, display a message on the screen, play an audio file, execute external programs and commands with parameters. The service delegates the execution of the last three actions to the graphical console, so it must be running at this time.
When checking network hosts, the system uses many standard network protocols: SNMP, TCP, ICMP, ARP, HTTP, FTP, WMI, NetBIOS, SQL, RTSP, etc. If the service cannot receive data from the host remotely (for example, the CPU temperature or S.M.A.R.T. parameters of hard drives and NVMe SSDs), then a remote agent comes to the rescue. It can be installed and run on as a service on a remote host for receiving all the necessary information locally and sending it to the service upon request.
The web interface duplicates functions of the program's management console in a web browser. You can connect to the program's web server from any mobile device, laptop or computer, view the status of checks, logs, build graphs, and manage settings.
All settings and monitoring results are stored in a single SQL database. Monitoring servers (centers) installed on remote networks interact with the database independently being connected to it through NATs and Firewalls without any port forwarding. At the same time, the entire system can be deployed within the private network of the enterprise according to the "Private Cloud" scheme, providing all the conveniences of a cloud monitoring system and without violating the network security.
You can also spread execution of checks over several monitoring servers to decrease load on the servers and improve the monitoring performance if your checks consume a lot of CPU (monitoring WMI) or network bandwidth (CCTV monitoring).
In addition to increasing reliability, the distributed monitoring scheme allows you to perform centralized checks of several remote networks, with collection of the statistics to one database. It is only necessary to install a monitoring service on the server of each remote network and configure its connection with the database (two TCP ports are used: 3050 and 3051).
SYSTEM REQUIREMENTS AND PERFORMANCE

The program (the desktop management console, monitoring server, web UI, and remote agents) works on all modern versions of Windows including Windows XP/Vista/7/8.1/10/11, Server 2003/2008/2012/2016/2019/2022 and provides high performance for the network device and host monitoring.
The program monitors devices using 30+ built-in monitoring checks which use common networking protocols including ICMP, TCP, ARP, SNMP, SSH, and WMI. The required performance of a server or PC for the program operation strongly depends on the number of monitoring checks (sensors) used and on the types of checks that differ in processor load (low: ICMP, ARP, TCP, HTTP, FTP; medium: SNMP, SSH; high: WMI, RTSP).
Protocols with low CPU load (ICMP, ARP, TCP, HTTP, FTP): An average modern PC can monitor up to 1000-2000 such sensors.
Average load (SNMP): If it is necessary to monitor parameters of managed switches via SNMP, an average PC can monitor several hundred sensors. If there are more than 1000 such sensors, it will be better to use a multiprocessor server with a large amount of RAM. From our experience, we can say that you can control about 8000 switches via SNMP on a 24-core server with 16 GB of memory and SSD drives. A large number of checks, combined with a short interval between the checks, results in an intensive write of the statistics records to the disk (and increased RAM consumption). In such cases, we recommend storing data on faster SSD drives.
High load (WMI): The WMI monitoring utilizes the most of CPU load (this is not a problem of our program, but a feature of the Windows system: the load is generated by WMI processes) and 500-1000 checks can cause issues. For testing the performance issues in your specific environment, we recommend you to download and try our fully functional free 30-day trial version from this page.
RTSP (traffic!): When setting up the video IP camera bitrate monitoring via the RTSP protocol, it should be taken into account that each check generates incoming traffic of 50-250 KB/sec. A large number of such checks on one monitoring server can heavily load the network and the processor. In our experience, 40-50 RTSP checks can load an entire 100Mbps channel. It is recommended to split RTSP checks over several monitoring servers, having just 50-100 on each (or more, depending on the situation). Or create all (or several) camera checks on one host - in this case they will be launched sequentially without overloading the channel according to the maximum thread count setting.
If there is no need to store the accumulated check statistics, you can turn it off and maximize the performance.
PROGRAM INSTALLATION AND SETUP

For the successful program operation, it is necessary to install at least three components - the graphical console, the monitoring service, and the database core. The database can be deployed on any server so that the service and console can communicate with it over the network. You can install the service and database on a server, and the graphical console on your working computer for connecting the console to the database server, configuring the system, and watching the results.
Firebird, Java, and Jetty software that we use can run on different platforms. Thus, the 10-Strike Network Monitor Pro program is almost completely cross-platform system having in mind that it can be managed using the web UI. The only exception is the only monitoring service, which requires a Windows host for the installation.
The list of components required for operation can give the impression of a complex installation and configuration process of the system. However, if you do not spread the components across servers with different operating systems, everything can be installed on one PC running Windows from one installation file, which you can download from our website. All necessary components are included in one file (the program, the monitoring server, and the database system). The web server for the web console operation is downloaded as a separate file.
WEB INTERFACE AND MOBILE DEVICE SUPPORT

You can manage the system not only from the program installed on a Windows PC, but also through the web interface from any device! It can be a laptop on the Internet, a tablet, a smartphone, etc.
Having passed the authentication, you can not only view the results of checks and build graphs based on the accumulated data, but also create new checks or edit existing ones.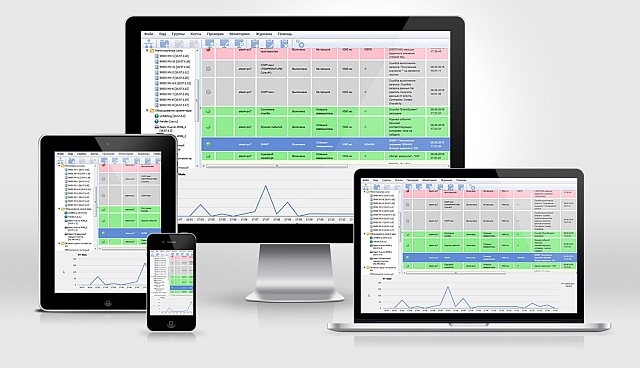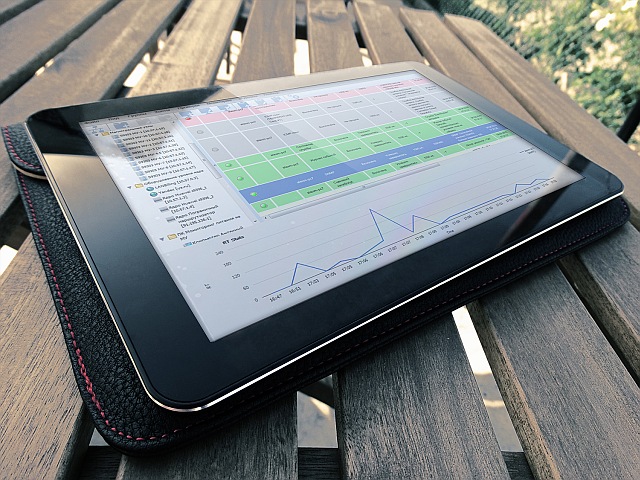 The program supports multi-user access and differentiation of access rights. You can set up limited users and administrators by separating permissions across monitoring servers.
REVIEWS
"The System Administrator" magazine, September 2017

Some systems are very expensive and not available for purchase by small and medium-sized organizations, other systems are difficult to configure and understand the principles of operation, others are not very stable, or their functionality is insufficient. The 10-Strike NM Pro system stands out against the background of all known and not so well-known monitoring systems...
The program is easy to use (everything works out of the box), not overloaded with unnecessary functionality, with fast and adequate technical support.
... the system is not inferior to its competitors in terms of functionality and convenience, and in some cases surpasses them.
PC Magazine/RE's annual software review "Best Soft 2015", December 2015

"This program allows you to monitor the IT infrastructure starting from switches and servers, and ending with UPS and door sensors in racks with equipment polled via the SNMP protocol. It is allowed to control not only the device operability, but to check whether some device's parameters are beyond critical thresholds. For example, this can be the CPU temperature, voltage, toner level in a printer, signal level in a fiber optic line, or amount of free space on disks. There are several methods of notifications available for an administrator. Charts displaying parameters help predicting trends before a real failure occurs".
SUCCESS STORIES
Cristian Locicero, C.L. INFORMATICA, Italy

"Congratulations on the speed with which you have updated the "Network Monitor Pro" program. I have been trying NM Pro for a few days and I think it is an excellent product that is simple, very functional and scalable, the type of NMS that I could offer to my customers (PMI)."
Ivan Simkin, MTS, Russia

"10-Strike Network Monitor has been repeatedly noted for good functionality from the top management of our company. The last happiness / misfortune was a big accident on our network, notifications of which reached the management via SMS."
OUR CLIENTS
Our programs are used by thousands of enterprises, including the energy, oil and gas industry, telecommunications companies, banks, ministries, and departments, commercial organizations, budgetary and educational institutions, hospitals, etc.