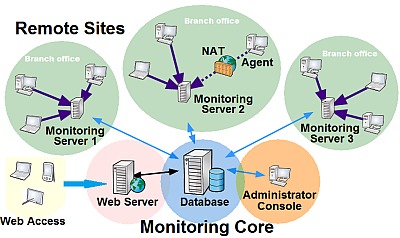 10-Strike Network Monitor Pro is a distributed network monitoring software system for Windows. It can be used for the network device and service monitoring when remote networks are spread over the world and can be located behind firewalls, routers, NAT, etc.
The program stores the data and settings in one common database. All distributed monitoring centers connect to that database, read settings, and write results of monitoring checks.

Overview
The program operation is based on the periodic automatic device polling. It can send an ICMP packet (ping) to a device, connect to a required TCP port over the network, access a database, or check some parameter on a server, managed switch, or UPS (using the SNMP protocol or WMI), etc.
Private Cloud

All the program settings and the monitoring statistics are stored in one common SQL database. Monitoring servers can be installed on remote networks behind NAT, routers, etc. Moreover, the Internet connection is not a mandatory. The monitoring system can be set up inside a private corporate network providing advantages of a cloud monitoring system and keeping the local network security.

Our monitoring programs are used by thousands of IT professionals and networking engineers all over the world. Get control over your network equipment and services, and ensure a prompt response to failures.
Try our free trial version in your environment. It is fully functional during 30 days!
Program Advantages

Dozens of monitoring checks and networking protocols supported including SNMP traps. Find the comprehensive list of the supported host monitoring checks here. Find the list of the notification methods here. Monitor managed switches, routers, servers, UPS, services, databases, etc.

Easy configuration! You can install our distributed monitoring system from a one file in several minutes. After that, scan your network and find all those hosts for monitoring in several seconds. When the process is finished, the program will start monitor the found hosts using a regular ping. You will only need to configure alerting and add more monitoring checks and hosts further.

Friendly program interface. Add new monitoring checks in a few clicks. You can copy the configured checks to new devices minimizing the setup time.

Round-the-clock background monitoring and flexible alerting allows you to receive prompt notifications when some service or host is down or its parameters are beyond the allowed threshold. Alert messages can be sent via email or SMS directly using a connected 3G/4G modem. Minimize downtime and negative consequences from failures. Some failures can be fixed automatically if you configure the program to restart hanging services or servers.

Analyze trends and predict failures when critical parameters go down. Watch history charts and analyze the performance of your hardware and software. Print the downtime reports and show to your boss. :)

Monitor CPU temperature or fan speed on remote computers using agents. Find overheating systems and fix its cooling before a breakdown.

High performance allows you to monitor thousands of devices or services including distributed networks in big corporations, banks, telecommunication providers, etc.

Decent fixed pricing. You can check our pricing on our site. You do not need to call our managers to find out the license cost.
Video Review
We have created a short video (4 minutes) for explaining the program concept and its features.
Vector Graphic Map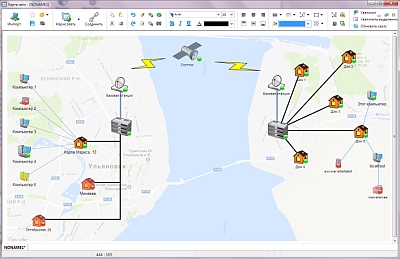 New feature of the v5! Watch the host state on a graphic map. Failed hosts will be displayed red according to their monitoring check results.
Remote Web Access and Management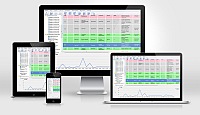 You can manage the system remotely (in addition to the desktop console) using any mobile device through the web interface.
In the web UI, you can watch the monitoring sensor status, check results, and build the response time and the monitored parameter charts. You can also add new checks and modify the existing ones. You can access the web UI from a smartphone, tablet, or a laptop.
The program supports the multiple user access with different access rights and roles.
System Requirements:
If you have installed the Application on a low-end computer, it is recommended that you create a Monitoring Database with at most 2,000 checks. The same applies to the Application that runs in a virtual machine. If you need to have more checks, it is recommended that you install the Application on a separate physical server.
When selecting a server for deploying the Application's Firebird database, keep in mind that the Monitoring Service makes a lot of statistical entries. So consider write-caching and using RAID, which can significantly improve the Application's performance.
The maximum number of checks that one Monitoring Service can handle without any significant deterioration of its performance depends on the type of checks:
ICMP, SNMPv1-2, ARP, HTTP, and file checks are the least resource-intensive checks. One Monitoring Service can handle up to 10,000 of such checks with a polling interval of 30 seconds or more.
SNMP v3 – this check type involves making about 40 network requests per second. For example, if you have a computer with a dual-core CPU running at 1 GHz, avoid monitoring more than 5,000 checks of this type with a polling interval of less than 60 seconds. The CPU load will be 50 percent or more.
WMI – checks of this type (WMI requests, network drive, local printer) are resource intensive. So avoid creating more than 200 checks with a polling interval of 30 seconds or less, more than 1,000 checks with a polling interval of 150 seconds or less, and so on.
Similar requirements apply to NetBIOS-based checks (service state, process state, software control, event log).
If you are going to have a very large Monitoring Database, use several Monitoring Servers and balance the load between them.
Regardless of equipment configuration, it is recommended that one Monitoring Service handles at most 10,000 checks.
The maximum number of monitoring servers per one database is 40.
For testing the performance issues in your specific environment, we recommend you to download and try our fully functional free 30-day trial version.
Our Clients